Competitive Classes
ODM's Competitive Classes for Advance JEE & NEET Preparation
Work hard, grow fast and get success. This is the sacred place where better education and a greater future is awaiting you.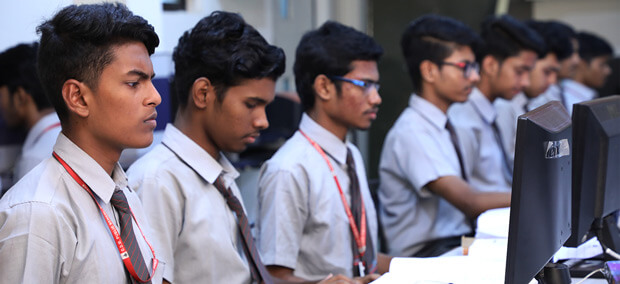 ODM Documentary
At ODM, Coaching and extra-academic preparation are provided to senior secondary students under its in-house brand of OSAL- Olympiad School of Advanced Learning. The students are prepared for engineering entrance examinations like JEE (Mains and Advanced), BITS and Medical Examinations like AIIMS, NEET and JIPMER. The following are the highlights of our Competitive Preparation-
A. It is provided to Day Boarding and Residential Students of ODM. Day Boarding and Residential students get preparation and teaching for both CBSE and Competitive of Engineering and Medical. However, the major difference between Day boarding and Residential Students is that Day boarding students don't stay on our campus, whereas Residential Students do.
B. CLASSROOM MATERIALS: We use the materials and syllabus of some of the leading coaching institutes of the country like Resonance, Allen and FIITJEE.
C. FACULTIES: Our coaching faculties combined together boast of at least 250+ qualifiers in IIT and 560+ qualifiers in medical colleges.
D. DOUBT CLEARING SESSION: Everyday doubt clearing sessions are conducted for all the children on a personal level from 04:30 pm-05:30 pm.
E. INTEGRATED PREPARATION: Certain Selected batches like Nucleus 40 and our other top batches are provided with integrated preparations. These preparations help children get more time for self-study and practice.
F. All-India TEST SERIES: We enrol our best students into the All-India Test Series Program of the top coaching brands of the country so that they get an opportunity to assess their standard in terms of an All-India level.
G. PERSONALIZED WORKSESSIONS: The students are provided with 2-hour sessions every week per subject, where they solve the worksheets in front of the teachers and get an opportunity to ask the doubts then and there.
Apart from this at ODM, We provide the advanced level preparation for the following examinations in association with other organisations-
A. CPT- The CPT or Common Proficiency Test was the first level of Chartered Accountancy examinations in India, which has been changed to CA Foundation according to the ICAI revised scheme.
B. CLAT- Common Law Admission Test is a centralised test for admission to 21 National Law Universities in India. 43 other education institutes and two public sector institutes are also eligible to use these scores
C. IIPM- IPM stands for the Integrated Programme in Management (IPM). It is a five-year programme in management offered by the Indian Institute of Management, Indore (IIM Indore). The programme is aimed at students who have passed out of class 12th / Higher Secondary or equivalent from various schools in India.
D. SAT- The SAT is a standardised test widely used for college admissions in the United States, since the College Board debuted it in 1926.
E. TOEFL- The TOEFL® Test TOEFL scores are accepted by more than 10,000 universities and other institutions in over 150 countries, including Australia, Canada, New Zealand, the U.K., the United States, and all across Europe and Asia. Stand out among other applicants and get noticed with the TOEFL test.
What Drives Us
Hear from our students and parents as they speak about how ODM has shaped their lives.

Aakashini Behera
(Student, Class III)
"ODM is a great school to attend. You learn things at this school. It is fun but it's very strict here. I believe this school provides the best education in the state of Odisha. I sincerely recommend this school to all ."

Aditya Prasad Tripathy
(Student, Class III)
"ODM expects nothing less than the best from each and every student. Teachers are here to teach but at this school they inspire. They are compassionate and caring towards the students. Tutoring and after-school programs are offered to all students."
Ashutosh Mishra
(Student, Class IX)
"At ODM, the teachers always believe in you and they make sure you try your hardest on everything you do. This school also has a lot of fun activities and fun field trips. We go on fun and educational field trips "

Astik Kumar Sarangi
(Student, Class III)
"ODM is a great school. The teachers are very qualified and I know they want us to succeed. I can't stay away from this school. I tried another school for one day (one day!) and I came home and told my mother, "I'm not going back. Take me back to ODM."

Ayush Nayak
(Student, Class III)
"We do fun activities and we're all really close. Padhi Sir is the ever-hilarious Language teacher but he is also very serious when it comes to our work. Somnath Sir, my math teacher, is really good at what he does. Whenever I think something is hard, he makes it so easy. "

Ipsita Mishra
(Student, Class II)
"ODM is a great school to learn and to become a better student and person. The curriculum here is very precise and challenging. We have science fairs year-round and go on numerous educational and fun field trips. If you listen and follow directions there is no reason why you should not succeed with flying colors."

Manshaa Panda
(Student, Class XI)
"I really recommend this school to everyone, since that contributed to making me one of the most beautiful experience in my life. All staff members are friendly, professional and always available to help you for everything. Classes are small and teachers are very qualified, kind and fun. "
Naina Priyadarsini Nayak
(Student, Class IX)
"ODM has a very unique school system that meets every parent's needs. The after-school activities are something to look forward to and have each individual working hard. The after-school programs are very fun and provide students something to do rather than just doing homework all the time. "

Nandini Das
(Student, Class II)
"I have been a student at ODM for three school years and from what I have experienced, I can tell you it is a great school. The teachers are very reasonable and fair. The staff is excellent and the rules help keep the school safe and in order. "

Saniya Khan
(Student, Class IX)
"Loved it. ODM Teachers are very friendly and helping. It's like a big family. The lessons are very good and the atmosphere between students, too. If i had to choose again, I would choose them."

Nirtika Satpathy
(Student, Class IX)
"I have been studying at ODM for about 8 months. I previously studied in other school and ODM has been extremely different when compared to this first one and even what my friends tell me about their school. They have a great teacher's team, moreover, the whole staff team care of their students. "

Sai Subhankar Biswal
(Student, Class II)
"ODM Public School is a great school! The teachers here are super about encouraging students to do their very best. Viswo Vinita Mam, is my English teacher, is fun and I really like her class. She loves to joke around, but does not play about getting work done. "

Sanat Kumar Nath
(Student, Class XI)
"I learned really much in this time. I really liked my teachers and learned and understand everything because they also explained everything to me, whenever I had a question. "
Sarthak Kumar Sahoo
(Student, Class XI)
"I can certainly say that It's one of the most important tiles of the mosaic called "Academics". I've spent 7 years here and I could see my improvement from the beginning and the cause of this is that they have well-organised qualified teaching staff always willing to help you. The school offers many activities in the afternoon in order to always provide you the opportunity to excel in other activities. "
s