Secondary School
Top CBSE Secondary School in Bhubaneswar, Odisha
Unlocking the true power of education, knowledge and wisdom within students to make our world a better place.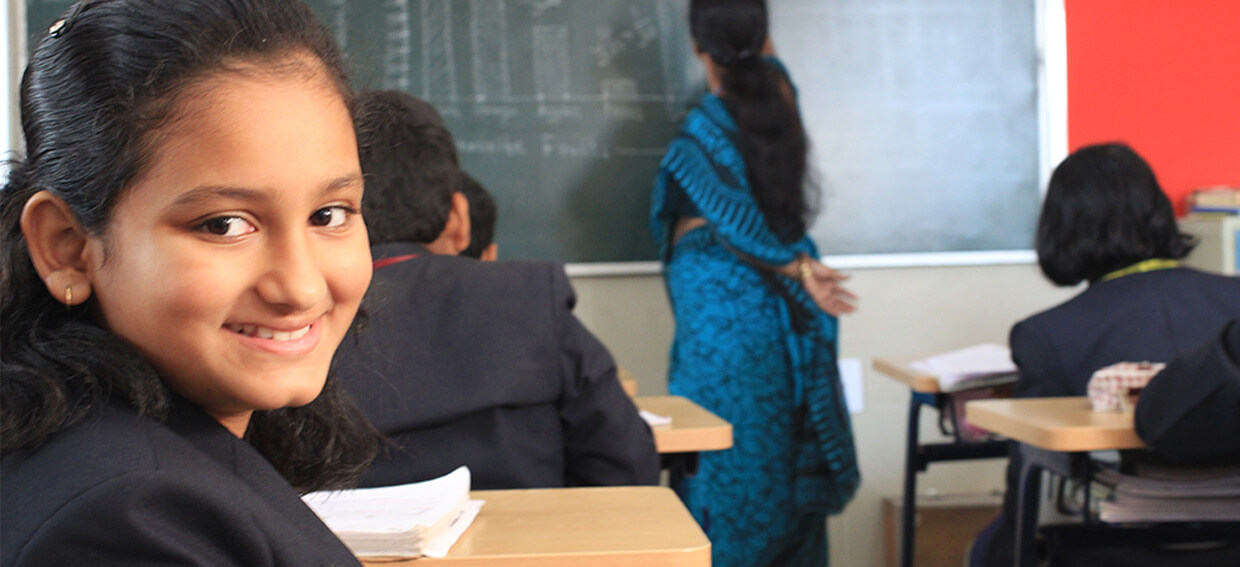 Students Speak
OVERVIEW
At ODM, Secondary education is backed by scientific learning along with modern-day teaching pedagogy. Our teachers believe in providing students with basic book-level exposure, but we also try to make the children think, ask why and how, and discover the answers themselves. Our teaching pedagogy uplifts practical learning, inquisitiveness and thorough conceptual understanding.
We generally follow a CBSE curriculum for all the classes. The Subjects available for the children vary from Class to Class. Maths, Science, English and Social Studies are compulsory subjects from Class VI-X. Students from Class VI-VIII have to choose between the four available languages, Odia, Hindi, Sanskrit and French. However, in Class IX-X, they have to choose one language out of the two languages they opted for in Class VIII.
Teaching & Learning Strategies
ODM has integrated classroom teaching with regular home assignments to develop self-discipline among students. In addition to this, there are regular graded worksheets that the students are required to complete and upload on the Learning Management System portal on ODMConnect. Finally, there is a planned approach for virtual as well as in-person doubt clearing followed by final examinations.
Daily Curriculum Plan
At the beginning of each academic year, a Daily Curriculum Plan is published for all subjects across classes. This helps bring about uniformity in the quality of sessions conducted by different teachers. These Plans are also shared with parents to keep them apprised of the academic proceedings.
Role of Class Mentors & POC
Class teachers are responsible for monitoring the progress of individual students. They engage in verbal communication with the parents fortnightly to keep track of the growth and development of the child beyond academics and maintain a record of the same. They are required to undertake hygiene activities such as marking daily attendance, and ensuring students are well groomed and in proper uniform. Class teachers also maintain a record of parents' active contact numbers in case of any emergencies. They act as a bridge between parents and children by communicating the progress and needs of the child to the parents. If a student is absent for more than two days, the class teachers must reach out to the parents via email.
Home Assignments, Question Booklets
Home Assignments form a regular part of the curriculum wherein students are required to do a written assignment or read a chapter as part of the prerequisite of the following class. This helps inculcate self-discipline among students. For classes IX and X, ODM has designed Question Booklets in order to familiarise students with the pattern of the CBSE Board Examination, thereby enabling them to practice and prepare for the same accordingly.
LMS & Supportive Materials
The Learning Management System on ODMConnect allows teachers to upload presentations that are used for classroom proceedings which can be accessed by students. The students can upload their worksheets on the portal, which are then graded by teachers online.
Classroom – Activity-Based Learning
Across subjects, to the extent possible, teachers undertake an activity-based approach to enhance student learning. Research suggests that experiential learning increases the retention power of students. Students are informed beforehand in case they are required to carry any materials for the same. The concerned teacher explains the task followed by the activity which is then performed either by the students in groups or individually or by the teacher to demonstrate to the class, depending upon the scope and suitability of the task. Followed by the demonstration, the teacher gives a debrief to students and helps them understand the concept behind the same.
Doubt Clearing
ODMConnect allows students to raise their queries which are then addressed by teachers virtually or face to face. In case of virtual solutions, teachers may share voice notes, images or written responses to resolve the queries. During examination preparation leave, special doubt clearing sessions are arranged online for all subjects to address the last-minute queries of students. This session is conducted in small groups to ensure individual attention.
Special Academic Initiatives
At ODM, we recognize that not every student is the same and has the same potential. Keeping their individuality and varied learning needs in mind, we conduct separate sessions for high achievers as well as remedial sessions for students who require some extra support. While the former aims to prepare students for Olympiads and other competitive exams, the latter focuses on strengthening the foundation of the students in order to aid their current and future academic learning.
Ensuring Quality in Academics
At ODM, we have a guidebook called "Teacher's Notes," wherein for every class, every subject and every session, there is a pre-documented note on what the flow of each session should be, what are the topics to be covered and what are the learning outcomes. This helps ensure uniformity and quality of teaching across various instructors.
Subjects
CLASS VI - VIII
LIST OF COMPULSORY AND OPTIONAL SUBJECTS
Sl. no.
Class
Compulsory Subjects
Optional Subjects
Co-curricular activities
1
Std VI-VIII (DS)

English
Mathematics
Science
Social science
2nd Lang - (Higher Hindi/ Higher Odia)
Computer

STD - VI & VIII
3rd Lang -Higher Hindi, Lower Odia & Sanskrit

Art/Music/Dance
Yoga
Game
Leader in me ( Life skill)

2
Std VI-VIII (DB)

English
Mathematics
Science
Social science
2nd Lang - (Higher Hindi/ Higher Odia)
Computer

STD - VI & VIII
3rd Lang-Higher Hindi, Lower Odia, Sanskrit & French

Art/Music/Dance
Yoga
Instrument
Clubs
Game
Leader in me ( Life skill)

3
Std IX - X (DS)

English
Mathematics
Science
Social science
2nd Lang - ( Hindi/ Odia/ Sanskrit)

Information Technology (402)

Art/Music/Dance
Yoga
Game
Leader in me ( Life skill) only in STD IX

4
Std IX - X (DB)

English
Mathematics
Science
Social science
2nd Lang - ( Hindi/ Odia/ Sanskrit/ French)

1. Information Technology (402)

Art/Music/Dance
Yoga
Instrument
Clubs
Game
Leader in me ( Life skill) only in STD IX
Evaluation & Assessment
SECONDARY CLASS VI, VII, VIII
EXAMINATIONS CONDUCTED IN AN ACADEMIC SESSION
VI, VII, VIII
Periodic Assessment-I 40 Marks
Internal Assessment 10 Marks
Half Yearly Examination 80 Marks
Periodic Assessment-II 40 Marks
Internal Assessment 10 Marks
Annual Examination 80 Marks
Weightage
10%
40%
10%
40%
IX & X
Periodic Assessment-I
Periodic Assessment-II
Preboard-I 80 Marks
Preboard-II 80 Marks
Annual Examination 80 Marks
Internal Assessment
Full mark is 80/40 for each paper depending on the need of the hour
Internal
Sahodaya
Full mark -80
20 marks
What Drives Us
Hear from our students and parents as they speak about how ODM has shaped their lives.

Aakashini Behera
(Student, Class III)
"ODM is a great school to attend. You learn things at this school. It is fun but it's very strict here. I believe this school provides the best education in the state of Odisha. I sincerely recommend this school to all ."

Aditya Prasad Tripathy
(Student, Class III)
"ODM expects nothing less than the best from each and every student. Teachers are here to teach but at this school they inspire. They are compassionate and caring towards the students. Tutoring and after-school programs are offered to all students."
Ashutosh Mishra
(Student, Class IX)
"At ODM, the teachers always believe in you and they make sure you try your hardest on everything you do. This school also has a lot of fun activities and fun field trips. We go on fun and educational field trips "

Astik Kumar Sarangi
(Student, Class III)
"ODM is a great school. The teachers are very qualified and I know they want us to succeed. I can't stay away from this school. I tried another school for one day (one day!) and I came home and told my mother, "I'm not going back. Take me back to ODM."

Ayush Nayak
(Student, Class III)
"We do fun activities and we're all really close. Padhi Sir is the ever-hilarious Language teacher but he is also very serious when it comes to our work. Somnath Sir, my math teacher, is really good at what he does. Whenever I think something is hard, he makes it so easy. "

Ipsita Mishra
(Student, Class II)
"ODM is a great school to learn and to become a better student and person. The curriculum here is very precise and challenging. We have science fairs year-round and go on numerous educational and fun field trips. If you listen and follow directions there is no reason why you should not succeed with flying colors."

Manshaa Panda
(Student, Class XI)
"I really recommend this school to everyone, since that contributed to making me one of the most beautiful experience in my life. All staff members are friendly, professional and always available to help you for everything. Classes are small and teachers are very qualified, kind and fun. "
Naina Priyadarsini Nayak
(Student, Class IX)
"ODM has a very unique school system that meets every parent's needs. The after-school activities are something to look forward to and have each individual working hard. The after-school programs are very fun and provide students something to do rather than just doing homework all the time. "

Nandini Das
(Student, Class II)
"I have been a student at ODM for three school years and from what I have experienced, I can tell you it is a great school. The teachers are very reasonable and fair. The staff is excellent and the rules help keep the school safe and in order. "

Saniya Khan
(Student, Class IX)
"Loved it. ODM Teachers are very friendly and helping. It's like a big family. The lessons are very good and the atmosphere between students, too. If i had to choose again, I would choose them."

Nirtika Satpathy
(Student, Class IX)
"I have been studying at ODM for about 8 months. I previously studied in other school and ODM has been extremely different when compared to this first one and even what my friends tell me about their school. They have a great teacher's team, moreover, the whole staff team care of their students. "

Sai Subhankar Biswal
(Student, Class II)
"ODM Public School is a great school! The teachers here are super about encouraging students to do their very best. Viswo Vinita Mam, is my English teacher, is fun and I really like her class. She loves to joke around, but does not play about getting work done. "

Sanat Kumar Nath
(Student, Class XI)
"I learned really much in this time. I really liked my teachers and learned and understand everything because they also explained everything to me, whenever I had a question. "
Sarthak Kumar Sahoo
(Student, Class XI)
"I can certainly say that It's one of the most important tiles of the mosaic called "Academics". I've spent 7 years here and I could see my improvement from the beginning and the cause of this is that they have well-organised qualified teaching staff always willing to help you. The school offers many activities in the afternoon in order to always provide you the opportunity to excel in other activities. "