Our Story
No. 1 CBSE School in Bhubaneswar, Odisha With Day-Boarding Facility
From Inception to Journey Thus Far.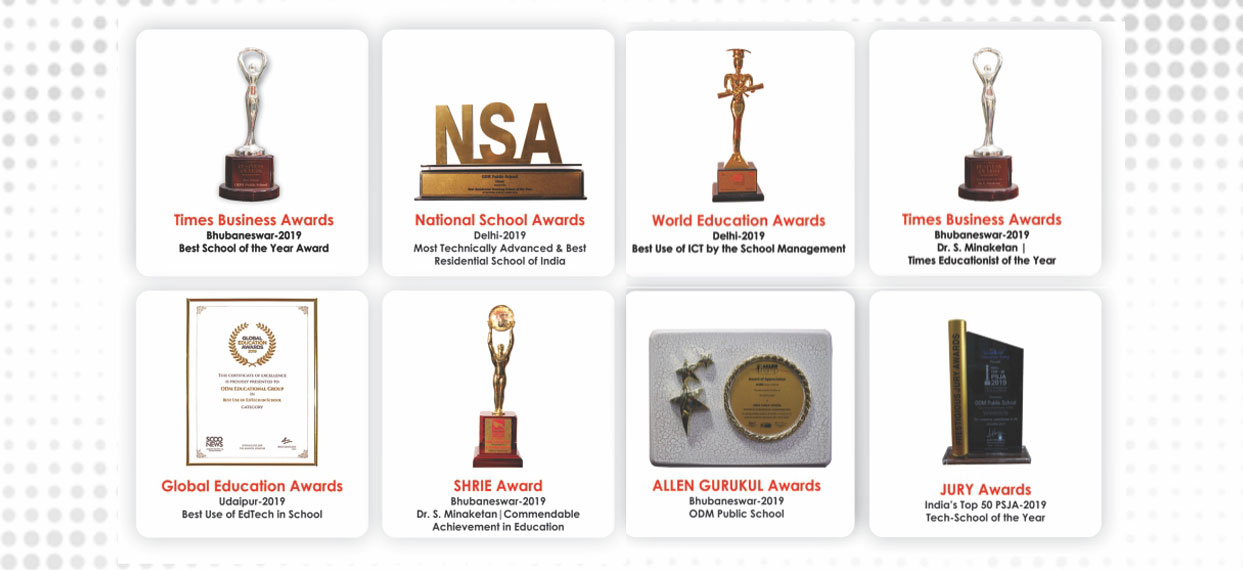 ODM Documentary
2019
Ranked as the No. 1 School of Odisha by the Times of India School Survey Rankings.

ODM public school bags three awards at the National School Awards 2019 held in Delhi this year. The school won awards as ''Best Residential School of India '' ''Most Technically Advanced School ''. Our Chairman, Dr. Satyabrata Minaketan, ODM Educational Group, received the award for Outstanding Contribution in the field of education.

Our chairman Dr. Satyabrata Minaketan received SHRIE Award for the year 2019 for his commendable achievement in the field of Social Service and Education.

ODM Educational Group has been awarded the prestigious World Education Awards 2019 for the best use of ICT by the school management. This awarded was presented to our Chairman, Dr. Satyabrata Minaketan, on 10th August at Delhi.

ODM Educational Group bags the highly prestigious 'Best School of the Year in Technology Award' at the Global Education Awards 2019, at Udaipur on Saturday, August 10, 2019. Prince Lakshyaraj Singh Mewar of Udaipur and Shri Sonam Wangchuk, Founder SECMOL and HIAL presented the citation to Swoyan Satyendu, COO, ODM Educational Group, in a grand ceremony.

ODM Public School got the Award as Tech School of the Year by Education Today, and the award was received by Mr. Swoyan Satyendu, COO, ODM Educational Group, in Mumbai, September- 2019.

ODM, bag the prestigious Global Teachers Awards 2019 from AKS in a grand ceremony at New Delhi. ODM is the only school from Odisha to have four of its teachers bag this prestigious award at New Delhi. Mrs. Laxmibati Das, Academic Head (Secondary), Mr. Mahendra Nayak, Ms. Viswo Vinita Samal, & Mrs. Sanghamitra Mishra received this prestigious award.

We are delighted to share with you that our three Academic Heads Mrs. Laxmibati Das, Mr. Rajesh Padhy and Mrs. Sadhya Rani Swain received the most prestigious Vidya Ratna Award 2019 on 22nd September 2019. The fact that three teachers of the school got this award highlights the school's strength of having qualitative teachers with immense passion and contribution to the field of Education. This award was received by 15 teachers across the nation, out of which three belong to ODM itself.

In the largest school education award of the year, ODM has been ranked No. 5 schools of India at the EW India School Ranking Awards. Our Chairman, Dr. S. Minaketan, received this award at Gurgaon, Delhi NCR. He quoted, "This is a proud moment for the school to be ranked 5th in all over India among so many schools, and it hasn't been an easy journey till now". The school was given in this award under the category of the Techno Avant Grande category.
2018
Chosen as the The Great Indian School 2018 by Forbes India.

Best Residential School of Odisha 2018- ODM was awarded by the Confederation of Odisha Public Schools.

Top Schools of India- Elets Award in School Leadership Summit. Ranked among the top schools from all over India for Best Primary Education.

Best Emerging School of Eastern India Award in Digital Learning 2018.

Recognized as the UN Nodal School, First of Eastern India, to promote UN's Sustainable Development Goals.

Ranked 3rd Best Day School of Eastern India by Education World in the year 2018.
2017
National youth Film Festival Award by Nehru Bal Sangh, Delhi.
2016
National Award to Teachers-2015 by the President of India on 5th September 2016.

100 Highly Effective Principal of India for the year 2016 by Alert Knowledge Services.
2015
Eduquest Award for best school for Educational Initiative and Social Cause Etv Awards.

Global Teachers Accreditation Awards by British Council.

Best Principal Award by Science Olympiad Foundation.
2013
Award by CBSE for best school in Social Service in 2013.
2006
Felicitated by His Excellency Sj. Rameswar Thakur, Governor of Orissa and 1st Lady of the State for his outstanding performance in the field of Education in the year 2005-06.
2005
His Excellency Sj. M. M. Rajendran, Governor of Orissa and Sj. Raja Swain, Minister of Sports & Youth Affairs Govt. of Orissa honors Dr. S. Minaketan for his outstanding performance in Social Work in the year 2003-04.

Bharat Vikas Parishad Orissa, on 31st November 2005 for the promotion of value education in school curriculum and social works.
2004
Dr. Satyabrata Minaketan, Principal/Director, O.D.M. Public School, Bhubaneswar awarded State Level Rajiv Gandhi Sadbhavana Award as the Best School of the year 2004 on 21st May 2004 by Rajiv Gandhi Foundation, Orissa forum.

Vidya Jyoti Award by Indian Holistic Medical Academy for his outstanding performance to the mankind in the world Congress on 12th September, 2004.
1992
Best social organizer award from state social welfare board in 1992.
What Drives Us
Hear from our students and parents as they speak about how ODM has shaped their lives.

Aakashini Behera
(Student, Class III)
"ODM is a great school to attend. You learn things at this school. It is fun but it's very strict here. I believe this school provides the best education in the state of Odisha. I sincerely recommend this school to all ."

Aditya Prasad Tripathy
(Student, Class III)
"ODM expects nothing less than the best from each and every student. Teachers are here to teach but at this school they inspire. They are compassionate and caring towards the students. Tutoring and after-school programs are offered to all students."
Ashutosh Mishra
(Student, Class IX)
"At ODM, the teachers always believe in you and they make sure you try your hardest on everything you do. This school also has a lot of fun activities and fun field trips. We go on fun and educational field trips "

Astik Kumar Sarangi
(Student, Class III)
"ODM is a great school. The teachers are very qualified and I know they want us to succeed. I can't stay away from this school. I tried another school for one day (one day!) and I came home and told my mother, "I'm not going back. Take me back to ODM."

Ayush Nayak
(Student, Class III)
"We do fun activities and we're all really close. Padhi Sir is the ever-hilarious Language teacher but he is also very serious when it comes to our work. Somnath Sir, my math teacher, is really good at what he does. Whenever I think something is hard, he makes it so easy. "

Ipsita Mishra
(Student, Class II)
"ODM is a great school to learn and to become a better student and person. The curriculum here is very precise and challenging. We have science fairs year-round and go on numerous educational and fun field trips. If you listen and follow directions there is no reason why you should not succeed with flying colors."

Manshaa Panda
(Student, Class XI)
"I really recommend this school to everyone, since that contributed to making me one of the most beautiful experience in my life. All staff members are friendly, professional and always available to help you for everything. Classes are small and teachers are very qualified, kind and fun. "
Naina Priyadarsini Nayak
(Student, Class IX)
"ODM has a very unique school system that meets every parent's needs. The after-school activities are something to look forward to and have each individual working hard. The after-school programs are very fun and provide students something to do rather than just doing homework all the time. "

Nandini Das
(Student, Class II)
"I have been a student at ODM for three school years and from what I have experienced, I can tell you it is a great school. The teachers are very reasonable and fair. The staff is excellent and the rules help keep the school safe and in order. "

Saniya Khan
(Student, Class IX)
"Loved it. ODM Teachers are very friendly and helping. It's like a big family. The lessons are very good and the atmosphere between students, too. If i had to choose again, I would choose them."

Nirtika Satpathy
(Student, Class IX)
"I have been studying at ODM for about 8 months. I previously studied in other school and ODM has been extremely different when compared to this first one and even what my friends tell me about their school. They have a great teacher's team, moreover, the whole staff team care of their students. "

Sai Subhankar Biswal
(Student, Class II)
"ODM Public School is a great school! The teachers here are super about encouraging students to do their very best. Viswo Vinita Mam, is my English teacher, is fun and I really like her class. She loves to joke around, but does not play about getting work done. "

Sanat Kumar Nath
(Student, Class XI)
"I learned really much in this time. I really liked my teachers and learned and understand everything because they also explained everything to me, whenever I had a question. "
Sarthak Kumar Sahoo
(Student, Class XI)
"I can certainly say that It's one of the most important tiles of the mosaic called "Academics". I've spent 7 years here and I could see my improvement from the beginning and the cause of this is that they have well-organised qualified teaching staff always willing to help you. The school offers many activities in the afternoon in order to always provide you the opportunity to excel in other activities. "