Co-Academics
Co-Academics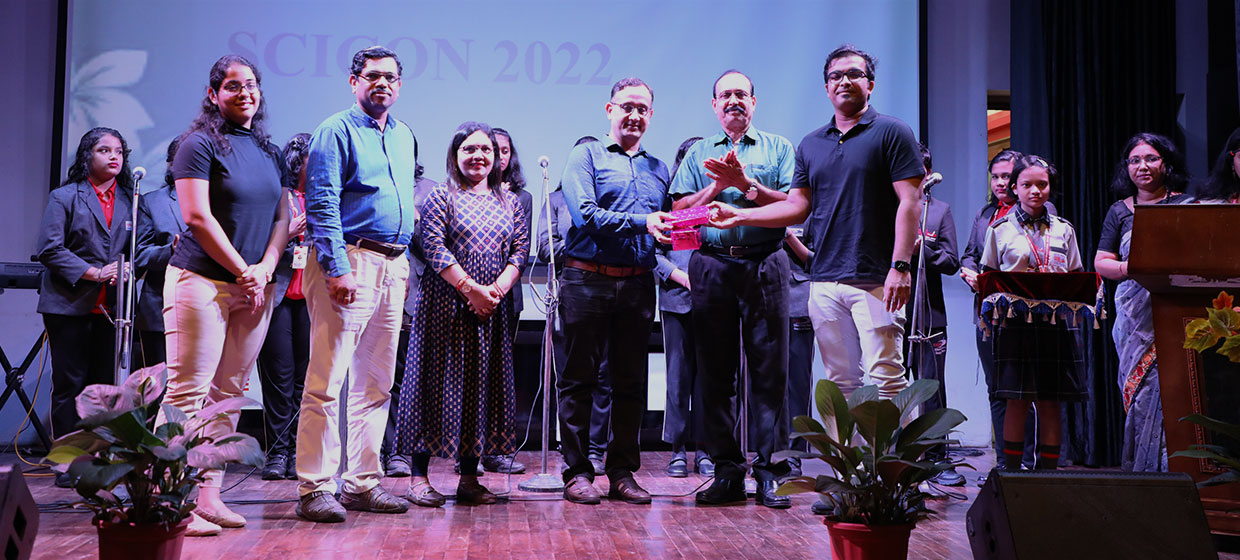 ODM aims at the holistic development of its students. Thus, we not only provide quality education but also offer the most interesting and out-of-the-box activities for students to acknowledge their hidden talents and for us to provide the right exposure and platform to that talent. We lay due emphasis on different activities through active participation in various social, athletic, and artistic clubs and societies. We guide students to discover and create their own understanding.
In order to create and sustain an integrated multidisciplinary environment that facilitates excellence in research and creative activities, at ODM, in addition to regular classes in the fields of Music, Art, Yoga, Dance, etc. we also have dedicated clubs to enable students to pursue their interests and at the same time develop life skills. The team has carefully curated a set of clubs, events, activities, celebrations and educational tours to enhance exposure and experiential learning amongst students. Every grade has 2 dedicated periods for co-academics.
School Clubs
At ODM Public School, we have introduced Clubs that are designed to tap out the potential of the students and train them extensively under professional guidance. It is mandatory for Day Boarders (Std I-X) to select one club of their choice for a year. For Day Scholars, the provision is available (subject to Club capacity) on a payment of Rs 1000/month (liable to change). The clubs are conducted from 2.15 pm to 4.00 pm once a week for every class. Sports Clubs are conducted from 4 pm - 6 pm.
Forte Clubs - They aim at giving students a chance to explore their interests and talents in specific fields with the help of a guide/facilitator. We have a structured curriculum that is followed by each of these clubs and qualified professionals to train the students accordingly. This training prepares them for different competitions and provides avenues for future careers. The Forte Clubs include –
Genius Minds (STEM Club)
Actomania (Dramatics Club)
Animax (Graphics and Media Club)
Lensational (Photography Club)
Quizophills (Quiz Club)
Mediatrix (Media)
C.B.S.E. Clubs - As part of this initiative, each student chooses any two skills and he/she is assessed based on the level of participation and achievement. The three skills where the recreational activity is clubbed with pedagogical learning are –
Literary and Creative Skills
Literary and Creative Skills
Organizational and Leadership skills
Sports Clubs – At present, we primarily have four groups under this category. This includes:
Cricket
Basketball
Volleyball
Table Tennis
Flagship Events
At ODM, we believe in exposing students to as many experiences as possible. Keeping this in mind, there is an Annual Co-Academic calendar published every year for conducting varied events that cut across specialized fields.
Some of our flagship events include –
ODM Model United Nations
ODM Youth Parliament
SCICON – The Science Fest
SO-SCIETY – The Social Science Conclave
LIT-O-FEST – The Literature Fest
SPECTRA – The Cultural Fest
ODM Sportaventure – The Annual Sports Meet
In-House Activities
ODM organises a plethora of inhouse activities, both in the classroom and outside its walls. These activities are designed to develop motor skills, social skills, emotional skills, soft skills and life skills, essential for the complete growth of the children. They often have an academic skeleton 15 with an expected learning outcome aimed at supporting academics through fun activities. They are conducted every month, are age appropriate and grade specific. The activity calendar is shared at the beginning of each academic year.
Some of these activities include -
Clocks and Maps
Friendship Bands
The world is my family
Jigsaw Puzzles
Community Awareness Programs
Workshops, Seminars and Talk Sessions, etc.
School Celebrations
In addition to events, the Annual Co-Academic calendar also captures all important National and International days and festivals that are observed throughout the year.
Some of the Celebration highlights include –
Republic Day
Saraswati puja
Independence Day
Independence Day
Dussehra
Diwali
Teachers' day
Children's Day
Ganesh Puja
House Competitions & External Competitions
A Competition planner consisting of intra-school competitions, is created at the beginning of each academic year. The intent of these competitions is to develop skills like team bonding, critical thinking, problem-solving, and communication, and above all, they aim to instil a healthy competitive spirit among students.
House Competitions are intra-school competitions in nature and are conducted once a month for each class to ensure the activities are age appropriate and relevant. These competitions may be conducted at an individual as well as group level.
Similarly, we also host inter-school events and send our students to other schools for competitions to expand their exposure. The major inter-school events include Sahodaya, CBSE, SGFI, Celesta (Lucknow) and other national and international competitions.
The scope and nature of all these competitions are varied, and there are opportunities for intellectual and personality development, creativity, and physical activities. The competitions include-
Debate / Speech / Declamation / Extempore
Role Play
Dance / Music / Instrumental
Art and Craft
Creative Writing
Sports Events
International Activities & Collaborations
With International Connects, ODM ensures that the students are exposed in a way that would be beneficial for them in the global environment. ODM encourages students to participate in several Model United Nations (MUN) conferences nationally and internationally. It is an academic simulation of the United Nations that aims to educate participant's civic and current affairs, effective communication, global issues, and multilateral diplomacy.
Apart from this, the school is also engaged in various School Immersion Programs. Students of ODM have visited various countries like Malaysia, Thailand, etc. These cultural and academic exchange programs serve as a learning basis for our students in a fruitful way. The school also practices Collaborative Learning in order to share and spread novel ideas with various educational institutions around the globe and eventually circulate quality education on a larger forefront.
Apart from this, the school is also engaged in various School Immersion Programs. Students of ODM have visited various countries like Malaysia, Thailand, etc. These cultural and academic exchange programs serve as a learning basis for our students in a fruitful way. The school also practices Collaborative Learning in order to share and spread novel ideas with various educational institutions around the globe and eventually circulate quality education on a larger forefront.
Library
The books in the library can be issued to the students and the permissible upper limit of the number of books that can be borrowed by a student varies for different classes.
All students must check every book before borrowing. They will be held responsible for any damage done to the book on return. Students will be required to pay the cost of the book, in case of loss.
Students should not exchange their library books with others. In the case of loss, the original borrower will be held accountable.
L.E.A.P Series
"Learn. Engage. Aspire. Prosper." – This is an initiative wherein eminent personalities are invited to the campus to address the students. The guests share their experiences, shortfalls, successes and learnings with the students. We strongly believe that witnessing such talks and events helps in building character and inspiring students.
Educational Tours & Trips
The school organizes educational visits that promote personal, social, and emotional development. Site visits are a significant part of our course, during which students visit companies, and educational institutions and get insights into the internal working environment of an institution. Annual Tours, National and International Trips are designed to give exposure and facilitate cultural exchanges. These visits undoubtedly form an indispensable part of our teaching practice. For each such activity, parents' approval is taken via consent forms post which a student is allowed to participate in the same.
High Flyer Awards
ODM Public School conducts an Award Ceremony twice a year to felicitate top-performing students, section and class-teachers in terms of academics. This event also recognizes students who have participated in co-academic activities and won competitions in the last two quarters. Punctuality (measured by class attendance) and discipline (based on classroom behaviour) are also traits that are recognized and felicitated at this Ceremony.
What Drives Us
Hear from our students and parents as they speak about how ODM has shaped their lives.

Aakashini Behera
(Student, Class III)
"ODM is a great school to attend. You learn things at this school. It is fun but it's very strict here. I believe this school provides the best education in the state of Odisha. I sincerely recommend this school to all ."

Aditya Prasad Tripathy
(Student, Class III)
"ODM expects nothing less than the best from each and every student. Teachers are here to teach but at this school they inspire. They are compassionate and caring towards the students. Tutoring and after-school programs are offered to all students."
Ashutosh Mishra
(Student, Class IX)
"At ODM, the teachers always believe in you and they make sure you try your hardest on everything you do. This school also has a lot of fun activities and fun field trips. We go on fun and educational field trips "

Astik Kumar Sarangi
(Student, Class III)
"ODM is a great school. The teachers are very qualified and I know they want us to succeed. I can't stay away from this school. I tried another school for one day (one day!) and I came home and told my mother, "I'm not going back. Take me back to ODM."

Ayush Nayak
(Student, Class III)
"We do fun activities and we're all really close. Padhi Sir is the ever-hilarious Language teacher but he is also very serious when it comes to our work. Somnath Sir, my math teacher, is really good at what he does. Whenever I think something is hard, he makes it so easy. "

Ipsita Mishra
(Student, Class II)
"ODM is a great school to learn and to become a better student and person. The curriculum here is very precise and challenging. We have science fairs year-round and go on numerous educational and fun field trips. If you listen and follow directions there is no reason why you should not succeed with flying colors."

Manshaa Panda
(Student, Class XI)
"I really recommend this school to everyone, since that contributed to making me one of the most beautiful experience in my life. All staff members are friendly, professional and always available to help you for everything. Classes are small and teachers are very qualified, kind and fun. "
Naina Priyadarsini Nayak
(Student, Class IX)
"ODM has a very unique school system that meets every parent's needs. The after-school activities are something to look forward to and have each individual working hard. The after-school programs are very fun and provide students something to do rather than just doing homework all the time. "

Nandini Das
(Student, Class II)
"I have been a student at ODM for three school years and from what I have experienced, I can tell you it is a great school. The teachers are very reasonable and fair. The staff is excellent and the rules help keep the school safe and in order. "

Saniya Khan
(Student, Class IX)
"Loved it. ODM Teachers are very friendly and helping. It's like a big family. The lessons are very good and the atmosphere between students, too. If i had to choose again, I would choose them."

Nirtika Satpathy
(Student, Class IX)
"I have been studying at ODM for about 8 months. I previously studied in other school and ODM has been extremely different when compared to this first one and even what my friends tell me about their school. They have a great teacher's team, moreover, the whole staff team care of their students. "

Sai Subhankar Biswal
(Student, Class II)
"ODM Public School is a great school! The teachers here are super about encouraging students to do their very best. Viswo Vinita Mam, is my English teacher, is fun and I really like her class. She loves to joke around, but does not play about getting work done. "

Sanat Kumar Nath
(Student, Class XI)
"I learned really much in this time. I really liked my teachers and learned and understand everything because they also explained everything to me, whenever I had a question. "
Sarthak Kumar Sahoo
(Student, Class XI)
"I can certainly say that It's one of the most important tiles of the mosaic called "Academics". I've spent 7 years here and I could see my improvement from the beginning and the cause of this is that they have well-organised qualified teaching staff always willing to help you. The school offers many activities in the afternoon in order to always provide you the opportunity to excel in other activities. "