Primary School
BEST SCHOOL IN BHUBANESWAR, ODISHA FOR PRIMARY EDUCATION
We create the signs of commitment, dedication and hope within your child to carry the human excellence ahead.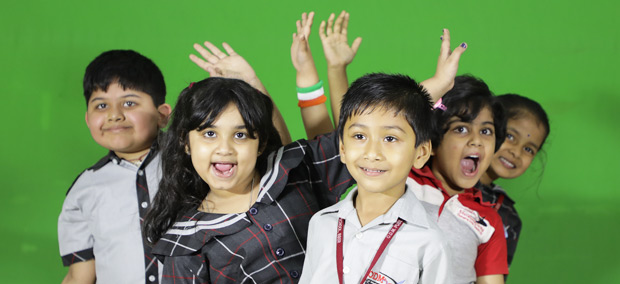 Parents Speak
OVERVIEW
Our primary curriculum stresses strongly on the conceptual learning of the subjects, as here the skills the students developed in the Early Year Programme comes into action.
Each year, as they begin their journey to primary classes from std-I to V, they are introduced to a new curriculum in order to provide them with advanced learning. This phase serves as an intermediate phase between the conceptual learning stages to the career-building stage.
Everything learned in the primary classes will build the initial ground for the students to work towards their dream. Therefore, in this crucial phase, every aspect of learning, i.e. academics, inculcating values, discipline etc., is closely taken care of.
The development during the primary stage of education empowers the comprehensive abilities enhancing their vision for both personal and academic goals.
Our curriculum is meticulously designed to give students a clear understanding of the topics that have a vital significance throughout their life. We accomplish this through our innovative teaching methods, focusing on applying concepts and creating a hands-on experience for students using learning kits and practical methods.
Subject
CLASS I - II
| Sl. No. | Subject |
| --- | --- |
| 1 | English |
| 2 | Hindi |
| 3 | Mathematics |
| 4 | Odia |
| 5 | EVS |
| 6 | Computer Learning Program |
| 7 | Art & Craft |
| 8 | Music |
| 9 | Dance |
| 10 | Games and Yoga |
| 11 | Class Activity/Outdoor Yoga |
| 12 | Swimming |
| 13 | Work Education |
CLASS III - V
| Sl. No. | Subject |
| --- | --- |
| 1 | English |
| 2 | Hindi |
| 3 | Mathematics |
| 4 | Odia |
| 5 | General Science |
| 6 | Social Science |
| 7 | Computer Learning Program |
| 8 | Art & Craft |
| 9 | Music |
| 10 | Dance |
| 11 | Games and Yoga |
| 12 | Class Activity/Outdoor Yoga |
| 13 | Work Education |
| 14 | Story |
Teaching - Learning Strategies
Our curriculum consists of application-based learning methods, where all basic concepts will be cleared. Each subject, be it Maths, Social Science or computers, are catered to, with a basic concept of learning by doing.
The school relentlessly strives to uncover the hidden potential in every student and enhance their capabilities by providing opportunities through myriad activities and healthy competition in the cultural, literacy and sports front.
To facilitate better learning through "hands-on experience."
Child centric approach lays emphasis on the discovery method, group learning and project work.
Smart class and Audio-Visual aids are used, assisting the students in understanding the nuances of a lesson through fun-filled interactive and play-way methods.
Value Based Education
Education is knowledge imbued with wisdom and ethics, which mould the behaviour and personality of the students. Therefore, the focus on Value Education remains strong in ODM Public School. The students imbibe the essential qualities of honesty, fair play. empathy, courage, integrity, compassion, loyalty and courtesy through morning assemblies, celebration of festivals and day to day interaction with the teachers. The effort is to guide the students towards appropriate behaviour and the development of a strong character.
Evaluation and Assessment
A continuous assessment scheme is followed, and examination is held. The student is graded regularly, and evaluation is based on:
Child's Performance and Participation in Class Activities
Home Work
Project Work
Worksheets
Class Assessment
Class Response
Reading and Communicative Skills
Individual and Group Behaviour
Periodic Assessments
Half Yearly and Final Assessment
External Assessments (SOF, Spell Bee, etc.)
What Drives Us
Hear from our students and parents as they speak about how ODM has shaped their lives.

Aakashini Behera
(Student, Class III)
"ODM is a great school to attend. You learn things at this school. It is fun but it's very strict here. I believe this school provides the best education in the state of Odisha. I sincerely recommend this school to all ."

Aditya Prasad Tripathy
(Student, Class III)
"ODM expects nothing less than the best from each and every student. Teachers are here to teach but at this school they inspire. They are compassionate and caring towards the students. Tutoring and after-school programs are offered to all students."
Ashutosh Mishra
(Student, Class IX)
"At ODM, the teachers always believe in you and they make sure you try your hardest on everything you do. This school also has a lot of fun activities and fun field trips. We go on fun and educational field trips "

Astik Kumar Sarangi
(Student, Class III)
"ODM is a great school. The teachers are very qualified and I know they want us to succeed. I can't stay away from this school. I tried another school for one day (one day!) and I came home and told my mother, "I'm not going back. Take me back to ODM."

Ayush Nayak
(Student, Class III)
"We do fun activities and we're all really close. Padhi Sir is the ever-hilarious Language teacher but he is also very serious when it comes to our work. Somnath Sir, my math teacher, is really good at what he does. Whenever I think something is hard, he makes it so easy. "

Ipsita Mishra
(Student, Class II)
"ODM is a great school to learn and to become a better student and person. The curriculum here is very precise and challenging. We have science fairs year-round and go on numerous educational and fun field trips. If you listen and follow directions there is no reason why you should not succeed with flying colors."

Manshaa Panda
(Student, Class XI)
"I really recommend this school to everyone, since that contributed to making me one of the most beautiful experience in my life. All staff members are friendly, professional and always available to help you for everything. Classes are small and teachers are very qualified, kind and fun. "
Naina Priyadarsini Nayak
(Student, Class IX)
"ODM has a very unique school system that meets every parent's needs. The after-school activities are something to look forward to and have each individual working hard. The after-school programs are very fun and provide students something to do rather than just doing homework all the time. "

Nandini Das
(Student, Class II)
"I have been a student at ODM for three school years and from what I have experienced, I can tell you it is a great school. The teachers are very reasonable and fair. The staff is excellent and the rules help keep the school safe and in order. "

Saniya Khan
(Student, Class IX)
"Loved it. ODM Teachers are very friendly and helping. It's like a big family. The lessons are very good and the atmosphere between students, too. If i had to choose again, I would choose them."

Nirtika Satpathy
(Student, Class IX)
"I have been studying at ODM for about 8 months. I previously studied in other school and ODM has been extremely different when compared to this first one and even what my friends tell me about their school. They have a great teacher's team, moreover, the whole staff team care of their students. "

Sai Subhankar Biswal
(Student, Class II)
"ODM Public School is a great school! The teachers here are super about encouraging students to do their very best. Viswo Vinita Mam, is my English teacher, is fun and I really like her class. She loves to joke around, but does not play about getting work done. "

Sanat Kumar Nath
(Student, Class XI)
"I learned really much in this time. I really liked my teachers and learned and understand everything because they also explained everything to me, whenever I had a question. "
Sarthak Kumar Sahoo
(Student, Class XI)
"I can certainly say that It's one of the most important tiles of the mosaic called "Academics". I've spent 7 years here and I could see my improvement from the beginning and the cause of this is that they have well-organised qualified teaching staff always willing to help you. The school offers many activities in the afternoon in order to always provide you the opportunity to excel in other activities. "