Our Residential Facilities
ODISHA'S BEST CBSE School with WORLD-CLASS RESIDENTIAL FACILITIES
Since its founding, ODM Public School has wholeheartedly welcomed students of every religious tradition, culture, and economic background. We emphasise kind understanding and appreciation of different perspectives, thus ensuring a multicultural campus focusing on utmost respect, trust, and student convenience. Added to the encouragement for strong moral and character development, our residential program students are going to live inside a safe, structured, and state-of-the-art campus equipped with high-end facilities. Here are a few highlights of our residential program for senior secondary classes.
Modern & Spacious Rooms
As we promise ODM to be your home away from home, we provide modern and spacious rooms to our residential students loaded with all facilities, just like their rooms at home. All our hostel rooms are provisioned with a centralised air conditioning system, clean and hygiene washrooms, and hot water facility. Students can also avail the special provision of single occupancy hostel rooms.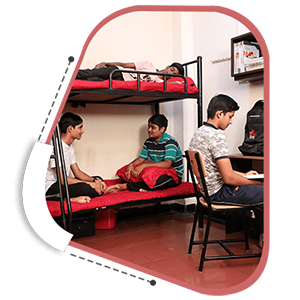 In-House Infirmary
At ODM Public School, we take the well-being of our students very seriously. We have a fully equipped infirmary with dedicated male and female pharmacists for boys and girls. Our in-house infirmary is 24x7 accessible and maintained by qualified individuals only. For emergency scenarios, we have our very own ambulance service and tie-ups with top hospitals available in the capital city – Bhubaneswar.
Digital Services
We have a fully functional and digitally enhanced library facility and self-study rooms for our residential students. ODM is also offering a special Tab-Lab facility to residential students where they can easily access e-learning products of their choice. Students can also avail our other available digital facilities for practice and mock-test programs.
Fooding Facility
Our residential facility includes a high-quality fooding facility for students. We have experienced Head-Chefs and Sous-Chefs from 3-star hotels to expertly supervise our fooding facilities. We are providing Breakfast, Lunch, Health Drink, Snack and Dinner provision for our residential students while ensuring a tasty, healthy, and constantly changed menu.
Indoor & Outdoor Recreation Facilities
Our school has modern and well-maintained indoor recreational facilities for students which include Table Tennis, a proper Gym and Billiards. The school also boasts excellent outdoor sports facilities for Cricket, Basketball, Kabaddi, Kho-Kho, and Volleyball.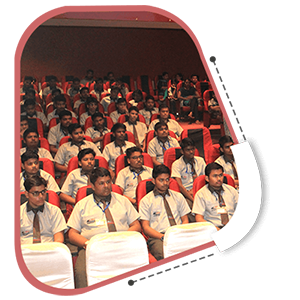 Other In-Campus Facilities
The safety and comfort of students is always our topmost priority at ODM Public School. High-quality CCTV cameras are installed all around the campus, which ensures complete logical surveillance and the safety of our students. Our campus also boasts a laundry facility, cafeteria with all day-to-day essential items, salon and ATM for the utmost convenience of our residential students. In addition, we are providing special Sunday recreational activities and monthly movie outings (* In-Campus Emerald Hall) to our residential students.
WHY CHOOSE ODM'S HOSTEL PROVISION?
Our hostels are inside/outside (within 50 meters) from the campus and are completely operated by the school management, ensuring the complete safety of the children.
End-to-End responsibility of the child, right from Academics to safety and comfort.
Get more time for integrated study with CBSE and Coaching Provisions and perform better academically.
Students will get ample sports opportunities and co-curricular activities opportunities.
With no phones, electronic gadgets and strict regulations on outside visits or exposure to negative elements, our hostels provide a distraction-free environment for the students.
Dedicated Boarding Managers and Floor Coordinators to take care of the students.
What Drives Us
Hear from our students and parents as they speak about how ODM has shaped their lives.

Aakashini Behera
(Student, Class III)
"ODM is a great school to attend. You learn things at this school. It is fun but it's very strict here. I believe this school provides the best education in the state of Odisha. I sincerely recommend this school to all ."

Aditya Prasad Tripathy
(Student, Class III)
"ODM expects nothing less than the best from each and every student. Teachers are here to teach but at this school they inspire. They are compassionate and caring towards the students. Tutoring and after-school programs are offered to all students."
Ashutosh Mishra
(Student, Class IX)
"At ODM, the teachers always believe in you and they make sure you try your hardest on everything you do. This school also has a lot of fun activities and fun field trips. We go on fun and educational field trips "

Astik Kumar Sarangi
(Student, Class III)
"ODM is a great school. The teachers are very qualified and I know they want us to succeed. I can't stay away from this school. I tried another school for one day (one day!) and I came home and told my mother, "I'm not going back. Take me back to ODM."

Ayush Nayak
(Student, Class III)
"We do fun activities and we're all really close. Padhi Sir is the ever-hilarious Language teacher but he is also very serious when it comes to our work. Somnath Sir, my math teacher, is really good at what he does. Whenever I think something is hard, he makes it so easy. "

Ipsita Mishra
(Student, Class II)
"ODM is a great school to learn and to become a better student and person. The curriculum here is very precise and challenging. We have science fairs year-round and go on numerous educational and fun field trips. If you listen and follow directions there is no reason why you should not succeed with flying colors."

Manshaa Panda
(Student, Class XI)
"I really recommend this school to everyone, since that contributed to making me one of the most beautiful experience in my life. All staff members are friendly, professional and always available to help you for everything. Classes are small and teachers are very qualified, kind and fun. "
Naina Priyadarsini Nayak
(Student, Class IX)
"ODM has a very unique school system that meets every parent's needs. The after-school activities are something to look forward to and have each individual working hard. The after-school programs are very fun and provide students something to do rather than just doing homework all the time. "

Nandini Das
(Student, Class II)
"I have been a student at ODM for three school years and from what I have experienced, I can tell you it is a great school. The teachers are very reasonable and fair. The staff is excellent and the rules help keep the school safe and in order. "

Saniya Khan
(Student, Class IX)
"Loved it. ODM Teachers are very friendly and helping. It's like a big family. The lessons are very good and the atmosphere between students, too. If i had to choose again, I would choose them."

Nirtika Satpathy
(Student, Class IX)
"I have been studying at ODM for about 8 months. I previously studied in other school and ODM has been extremely different when compared to this first one and even what my friends tell me about their school. They have a great teacher's team, moreover, the whole staff team care of their students. "

Sai Subhankar Biswal
(Student, Class II)
"ODM Public School is a great school! The teachers here are super about encouraging students to do their very best. Viswo Vinita Mam, is my English teacher, is fun and I really like her class. She loves to joke around, but does not play about getting work done. "

Sanat Kumar Nath
(Student, Class XI)
"I learned really much in this time. I really liked my teachers and learned and understand everything because they also explained everything to me, whenever I had a question. "
Sarthak Kumar Sahoo
(Student, Class XI)
"I can certainly say that It's one of the most important tiles of the mosaic called "Academics". I've spent 7 years here and I could see my improvement from the beginning and the cause of this is that they have well-organised qualified teaching staff always willing to help you. The school offers many activities in the afternoon in order to always provide you the opportunity to excel in other activities. "